Discount real estate agents Las Vegas You save 60% in listing commissions discount real estate agents Las Vegas.
Robert Ratliff RE/MAX Reliance Las Vegas, we think we paved the way so sellers like yourself could keep more money in their pockets rather than give it to agents who refuse to change with the times.
Our Listing Commission is 1%!
Several real estate agents in Las Vegas may offer discounted commission rates or other incentives to help sell your home.
It's essential to research and compare agents carefully to find the best fit for your needs.
Here are a few things to consider when looking for a discount real estate agents in Las Vegas:
Commission rate: Some agents may offer a lower commission rate as an incentive to work with them. However, it's important to remember that a lower commission rate does not mean a lower level of service.
Experience: Look for an agent with a track record of successful home sales in your area. A more experienced agent may sell your home for a higher price, offsetting any discounts on commission.
Marketing: A quality agent will have a sound marketing plan to help sell your home quickly and for the best price. Be sure to ask about their marketing strategies to promote your home.
References: Ask for references from past clients to get a sense of the agent's reputation and level of service.
It's also a good idea to interview several agents to find the one that is the best fit for you.
Be sure to ask about their experience, marketing strategies, and references to make an informed decision.
There are several potential benefits to using a discount real estate agent, including potentially saving a significant amount of money on commission fees.
Because discount agents typically charge lower commission rates than traditional agents, you may save thousands of dollars on the sale or purchase of a home.
Discount agents may offer a more hands-on and personalized approach to working with clients, which can be especially beneficial for first-time home buyers.
Because these agents typically have lower overhead costs, they may pass these savings on to their clients as lower fees and more flexible pricing options.
Discount Real Estate Agents Las Vegas 
Clark County, Nevada, leading alternative to excessive real estate commissions. We believe the practice of charging sellers tens of thousands of dollars to sell one home should end.
So for years, we have embraced new technologies to become a more efficient and sensible real estate company.
MORE  WAYS  WE  SAVE  YOU  MONEY 
We can offer two additional discount real estate agents in Las Vegas.
1. We let you decide how much to pay the buyer's agent! This can be as little as 1%
2. We will rebate you 1% of the purchase price if we're your buyer's agent on your next purchase.
Listing Benefits
1% LISTING AGENT COMMISSION: Don't give other agents your hard-earned money!
CANCEL LISTING ANYTIME: If unsatisfied with our service, cancel your listing!
FULL SERVICE:  We handle everything needed to list and sell your home.
PROFESSIONAL REALTORS: We are FULL-TIME MLS RE/MAX Realtors with 20 years of experience
Our Promise
NO UPFRONT COST: You DO NOT pay us until your home is sold.
NO RISK:  You DO NOT owe us a penny if your home does not sell.
NO HIDDEN FEES: There are NO additional fees for our service.
The real estate market is transforming, and "Discount Real Estate Agents Las Vegas" is leading the way!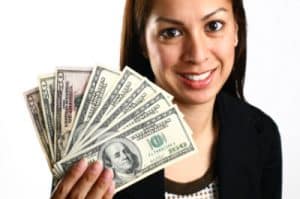 When planning to sell your home, hiring a real estate agent in Las Vegas may be worth your time.
In today's average realtor commission Las Vegas market, you will find "Discount Realtors" can provide the same level of real estate services which include: full internet marketing, professional photos for free, contract negotiations, seller real estate disclosure compliance, and so much more, all for a flat 1% listing fee!
With the average home prices in Clark County, Nevada pushing $265,000, sophisticated sellers are reluctant to pay total real estate commissions when an experienced "discount realtor" can sell their home for a lower commission.
As more "discount real estate agents in Las Vegas" and "ONE PERCENT" companies introduce their discount programs, they become the new real estate industry standard.
Robert Ratliff RE/MAX was here initially and remained a leader for Discount Realtors in Las Vegas.
So if you're selling a home, call one of our "discount real estate agents in Las Vegas," who charges a 1% realtor commission and provides you with a cancel your listing at anytime policy—call us today!
We advertise everywhere, so your home will be on all the significant real estates websites like Zillow Las Vegas, Realtor.com, and Trulia, including all the other broker websites like Coldwell Banker, Berkshire Hathaway, Prudential, Century 21, Redfin, ReMax, and hundreds of different websites!
Robert Ratliff RE/MAX Reliance Las Vegas are FULL-TIME professionals selling more homes yearly than other agents.
If you're looking for exceptional service, knowledgeable Realtors, and a sensible commission plan, hire one percent listing Las Vegas to list your home.
It's an easy way to save.
CALL US TODAY OR FILL OUT THE FORM TO GET STARTED!
Sorry we are experiencing system issues. Please try again.
We do it all for a sensible 1% commission
Marketing and Advertising
MLS- Multiple Listing Service.
Professional photography of the home.
Open Houses upon request.
Broker Caravan for area Realtors.
Advertising on all property websites worldwide.
Email alerts to buyer agents in the area.
For Sale sign on the property.
Secure Sentri or Supra lock box when needed.
Custom property flyers in full color.
Buyer feedback from property showings.
All advertising and marketing duties.
Weekly area market updates.
Agreements, Disclosures & Escrow
Initial purchase agreement review and guidance.
Review of buyer purchase qualifications.
Document creation for responding to buyer offers.
Preparation of all required seller disclosures.
Complete transaction management during escrow.
Coordination of buyers' property inspections.
Termite Inspection coordination.
Escrow coordination and guidance.
Coordination of title transfer at close of escrow.
Communication with buyers' agents during escrow.
Errors and Omissions insurance.
AND SO MUCH MORE !!!
Discount Real Estate Agents Las Vegas RE/MAX 
When buying or selling Las Vegas homes for sale.
Contact an average real estate commission Las Vegas experienced Realtor!
Bob and Diana
Robert Ratliff RE/MAX Reliance
702-508-8262
3700 S Hualapai Way #201
Las Vegas
,
NV
89147
Monday, Tuesday, Wednesday, Thursday, Friday
9:00 am – 5:00 pm
Discount Real Estate Agents Las Vegas
Latest posts by Robert Ratliff
(see all)