Las Vegas horse property will be in many locations and areas in greater Clark County, Nevada.
People recognize Las Vegas, Nevada, for its casinos, entertainment, and vibrant nightlife.
Exclusive Equestrian Real Estate for Sale 
Sorry we are experiencing system issues. Please try again.
Properties for Riding in Clark County Nevada
Las Vegas, Nevada, is home to several real estate horse properties, which are properties that are specifically designed to accommodate horses and other equestrian activities.
These Las Vegas horse properties may include stables, riding arenas, and pastures.
If you are looking for a Las Vegas horse property, there are a few key things to consider:
Location: Look for properties with good access to trails and other equestrian facilities.
Size: Consider the property's size and whether it suits your needs. For example, you may need a larger property if you plan to keep several horses or if you want to have space for a riding arena.
Condition: Look for properties that are in good condition and have been well-maintained. This will save you time and money in the long run.
Amenities: Consider the amenities necessary to you, such as stables, riding arenas, or pasture land.
Contact a real estate agent familiar with the local market to find horse properties in the Las Vegas area.
They can help you identify available properties and assist you with buying horse property in the area.
However, the city and surrounding areas also offer a variety of horse properties for those looking to live the equestrian lifestyle.
Las Vegas has a growing equestrian community, with several neighborhoods and communities offering horse properties.
These Las Vegas horse properties typically include acreage, stables, and riding arenas, allowing horse owners to keep their animals on-site.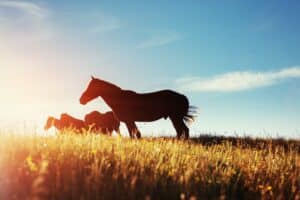 One of the famous horse property neighborhoods in Las Vegas is the community of Santa Fe Ranch, in the southwestern part of the city.
The community offers large lot sizes, many of which are zoned for horses, and access to miles of trails for riding.
Another popular option for horse properties in the Las Vegas area is the community of Blue Diamond.
Located just outside the city, Blue Diamond offers a rural atmosphere with easy access to the amenities of Las Vegas.
Las Vegas Equine Real Estate
The community has several equestrian facilities, including boarding stables and arenas.
Overall, Las Vegas and the surrounding areas offer various options for horse properties.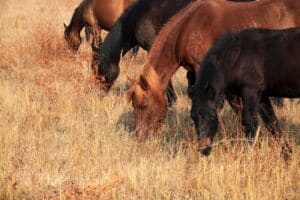 With its growing equestrian community and access to riding trails and facilities, Las Vegas is an excellent place for horse enthusiasts to call home.
New home construction developments had increased over the last 20 years when significant equestrian real estate was for sale in Clark County, Nevada.
Now only scattered areas of acreage remain in the Las Vegas valley.
Urbanized communities surround most equestrian real estate for sale.
Properties for horse communities adjoin large parcels of state-owned land that allow riding in the beautiful Southern Nevada Desert.
We are experts in fine equestrian real estate for sale and land.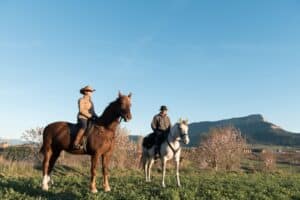 Let us help you find the Las Vegas equestrian property of your dreams or the Las Vegas vacant land to create one!
Clark County, Nevada, offers a rich ranch life!
Miles of scenic riding trails in our Clark County, Nevada, national conservation areas.
Las Vegas horse property and horse people we enjoy and have an understanding and can help.
Las Vegas horse property professional Robert Ratliff RE/MAX.
I can show you all available Las Vegas horse properties in our region and discuss the amenities of each one from a horseman's perspective.
Las Vegas Nevada Land Information
Amenities at horse properties in Las Vegas may vary, but some standard amenities that you may find at these properties include:
Stables may comprise stalls, tack rooms, and wash racks.
Riding arenas: These may be indoor or outdoor and may include features such as mirrors, jumps, and lighting.
Pasture land: Some properties may have pasture land where horses can graze and exercise.
Trail access: Many horse properties in Las Vegas are in areas with good access to trails for riding.
Properties with barns: Certain properties may possess barns or other storage spaces for hay, feed, and other horse-related supplies.
Owners turn out their horses to exercise and graze in these areas.
Tack rooms: Store and organize equine equipment, such as saddles and bridles.
They groom and clean horses: In the wash racks, often with a hose and drain.
Training facilities: Some properties may have facilities specifically designed for training horses, such as round pens or lunging arenas.
On-site housing: Some properties may have on-site accommodation for caretakers or trainers.
This is not an exhaustive list, and the services available may differ according to the property.
If you are looking for a horse property in Las Vegas, reviewing the specific amenities offered at the properties you are considering is a good idea.
Should you wish to have a look at the full range of horse property communities in the extended Las Vegas area, please reach out to us.
It would please us to show you ranches currently on the market.
The acreage and properties for horses and homes throughout the Clark County valley.
Your evaluation of a ranch property to purchase can be challenging and sometimes the more complicated purchase of a traditional home.
I understand that Las they scattered Vegas properties throughout the valley.
Each Las Vegas horse property can be unique vs. another property.
With limited property inventory, even buying a traditional home will have challenges.
Las Vegas Horse Property Equestrian Homes
Latest posts by Robert Ratliff
(see all)