MacDonald Highlands Real Estate Guard Gated Community high above the Las Vegas Valley is the exclusive, gated, master planned community. This high-end area offers luxury homes with absolute stunning views of the lights of Las Vegas.
MacDonald Highlands Real Estate – Guard Gated Community
Start Your Research Here: Exclusive MacDonald Highlands Luxury Homes for Sale Information
MacDonald Highlands Real Estate Guard Gated Community high above the Las Vegas Valley is the exclusive, gated, master planned community. This high-end area offers luxury homes with absolute stunning views of the lights of Las Vegas.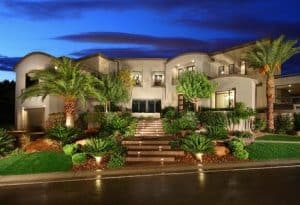 The picturesque Luxury Homes for Sale community is made up of the 1,200 acres that surrounds Dragon Ridge County Club golf course. The club is a private, 18-hole championship golf course designed by Jay Morrish and David Druzisky.
Search for luxury homes for sale,  real estate agents, or recent MacDonald Highlands Real Estate home sales using Las Vegas Real Estate Authority real estate tools. Get complete access to all available homes for sale on the MLS in luxury homes and the surrounding areas.
Mountain Luxury Home Community
MacDonald Highlands Real Estate is just minutes away from I -215 Beltways accessing all of Las Vegas quickly. Tucked away in the mountain hillsides luxury home community gives residence a sense of seclusion and with excitement of the Las Vegas Strip just minutes away.
MacDonald Highlands Real Estate guard gated community features three neighborhood parks including tennis, basketball, and volleyball courts, and picnic and play areas. MacDonald Highlands Real Estate will also feature 5 miles of walking trails that will meander throughout the luxury homes community and provide access to nature trails that lead deep into the surrounding McCullough Mountains.
Guard Gated Community – MacDonald Highlands Real Estate
In today's real estate market prices for homes at Guard Gated Community run from around $500,000 up to and over $10,000,000 for the prestigious Gated Community Homes custom estates surrounding the golf course.
There are still many new custom sites and completed luxury homes for sale within this spectacular community. Many consider Guard Gated Community to be the best place to purchase luxury homes in the entire Las Vegas Valley MacDonald Highlands.
MacDonald Highlands Real Estate
Robert Ratliff RE/MAX Excellence Realtor Las Vegas top real estate team in Las Vegas and Henderson, Nevada. Specializing in residential and commercial real estate for over 13 years. Call me direct at 702-807-5528.
Latest posts by Robert Ratliff